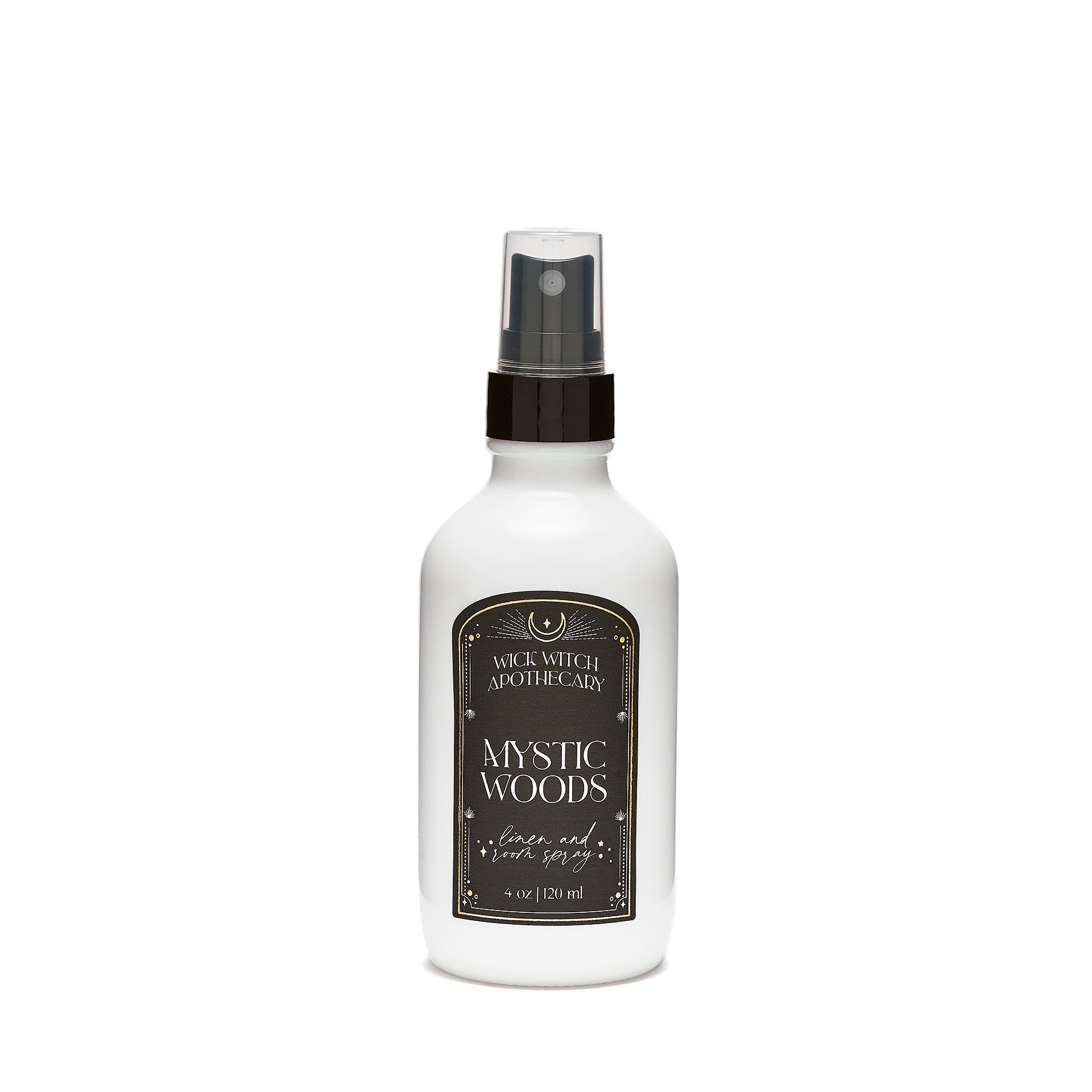 MYSTIC WOODS LINEN & ROOM SPRAY
Let the Mystic Woods Linen and Room Spray infuse your surroundings with the essence of the earth, bringing the magic of the outdoors into your sacred space. Embrace the enchantment and embark on a journey, where the ordinary transforms into the extraordinary that transports you to the depths of an ancient forest. This bewitching elixir combines the essence of nature's very soul with a touch of magic, embracing the elemental forces of earth and air.
PATCHOULI, the heart of this elixir, weaves a tapestry of earthly delights, grounding your spirit and connecting you to the rich, ancient soil of the forest floor.

SANDALWOOD, a sacred wood with centuries of mystic wisdom, invites you to embark on a spiritual journey, guiding you through the labyrinthine secrets of the woods.
CEDAR, guardian of the forest's wisdom, stands tall and strong, its woody aroma enveloping you in a protective embrace, shielding you from the mundane world.
SAGE, the purifier, sweeps away negative energies, leaving behind only a sense of serenity and clarity as you traverse deeper into the heart of the mystical woods.
OAKMOSS, the very breath of the forest, whispers ancient tales and weaves a veil of mystery, connecting you with the ancient spirits that dwell within.
P
A
T
C
H
O
U
L
I
.
S
A
N
D
A
L
W
O
O
D . 
C
E
D
A
R
.
S
A
G
E
.
O
A
K
M
O
S
S
4 oz glass bottle / handcrafted in historic Merrickville, Ontario
SHAKE WELL BEFORE EACH USE
INGREDIENTS: DISTILLED WATER, DISODIUM EDTA, POLYSORBATE-20, HYDANTOIN, PERFUME OIL BLEND.
PHTHALATE & PARABEN FREE