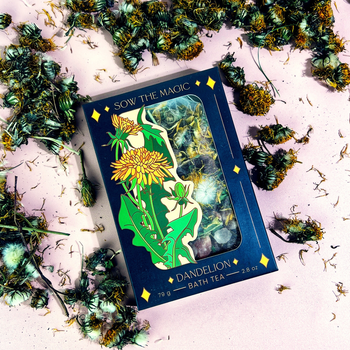 Dandelion Tarot Botanical Bath Tea Box
You're sure to be feeling dandy after a delightful soak in this Dandelion and Calendula infused tea soak.
Dandelion contains incredible detoxifying properties that rid the skin of toxins that clog pores as well as vitamin C to speed up the body's natural healing process. The nourishing benefits of calendula help to plump the surface of your skin to give you tighter, more supple skin. Also this plant has anti-inflammatory and antioxidant properties help to protect your skin's collagen and elastin supply.
Meanings: Transformation + Release
Directions: Open, place tea bag under running water, steep in bath for as long as possible. When finished pour botanicals into compost. Bag is reusable. Intended for bath use only. Do not ingest.
Ingredients: Dandelion Leaves and flowers (Taraxacum officinale), Calendula (Calendula officinalis), Dried Lemon (Citrus limo