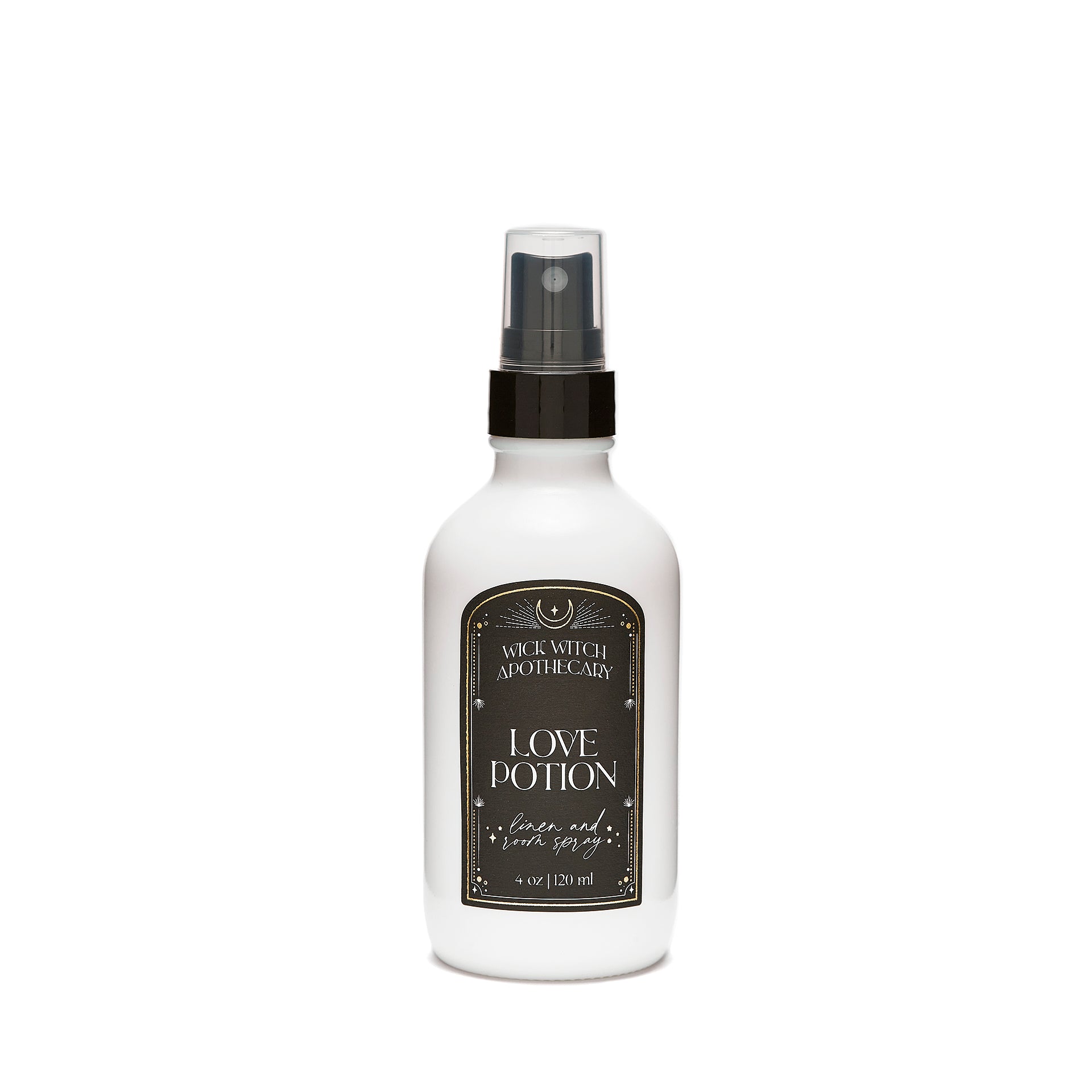 LOVE POTION LINEN & ROOM SPRAY
The enchanting Love Potion Linen and Room Spray is a bewitching concoction to infuse your surroundings with an aura of delicate, feminine allure and amorous enchantment. Crafted with the utmost care and mystic artistry, this potion weaves a spell of romance that will leave you and your space irresistibly entranced.
Enchanting aromas delicately intertwine, creating an atmosphere of soft, fruity, and romantic mystique. As you drift into the embrace of this love spell, may it ignite the flames of ardor and passion, and may your heart be forever enchanted by the magic of love.

CHAMOMILE, the ancient herb of love and serenity, whispers its soothing incantations, calming the heart and opening it to affectionate desires.

JASMINE, the sultry blossom of seduction, releases its sultry, heady fragrance, weaving a sensual tapestry that ensnares your senses and beckons true love.
PEACH, the fruit of eternal longing, adds its juicy, luscious notes, igniting passions and sweetening the air with an irresistible sensuality.
ROSEHIP, the secret keeper of tender affection, imparts a subtle, dew-kissed blush, invoking the tender blush of first love and evoking cherished memories.
CASSIS, the dark, mysterious berry, stirs the depths of passion, infusing the elixir with an intoxicating depth that entices and seduces.
C
H
A
M
O
M
I
L
E
.
J
A
S
M
I
N
E
  . 
P
E
A
C
H
.
R
O
S
E
H
I
P
.
C
A
S
S
I
S
4 oz glass bottle / handcrafted in historic Merrickville, Ontario
SHAKE WELL BEFORE EACH USE
INGREDIENTS: DISTILLED WATER, DISODIUM EDTA, POLYSORBATE-20, HYDANTOIN, PERFUME OIL BLEND.
PHTHALATE & PARABEN FREE