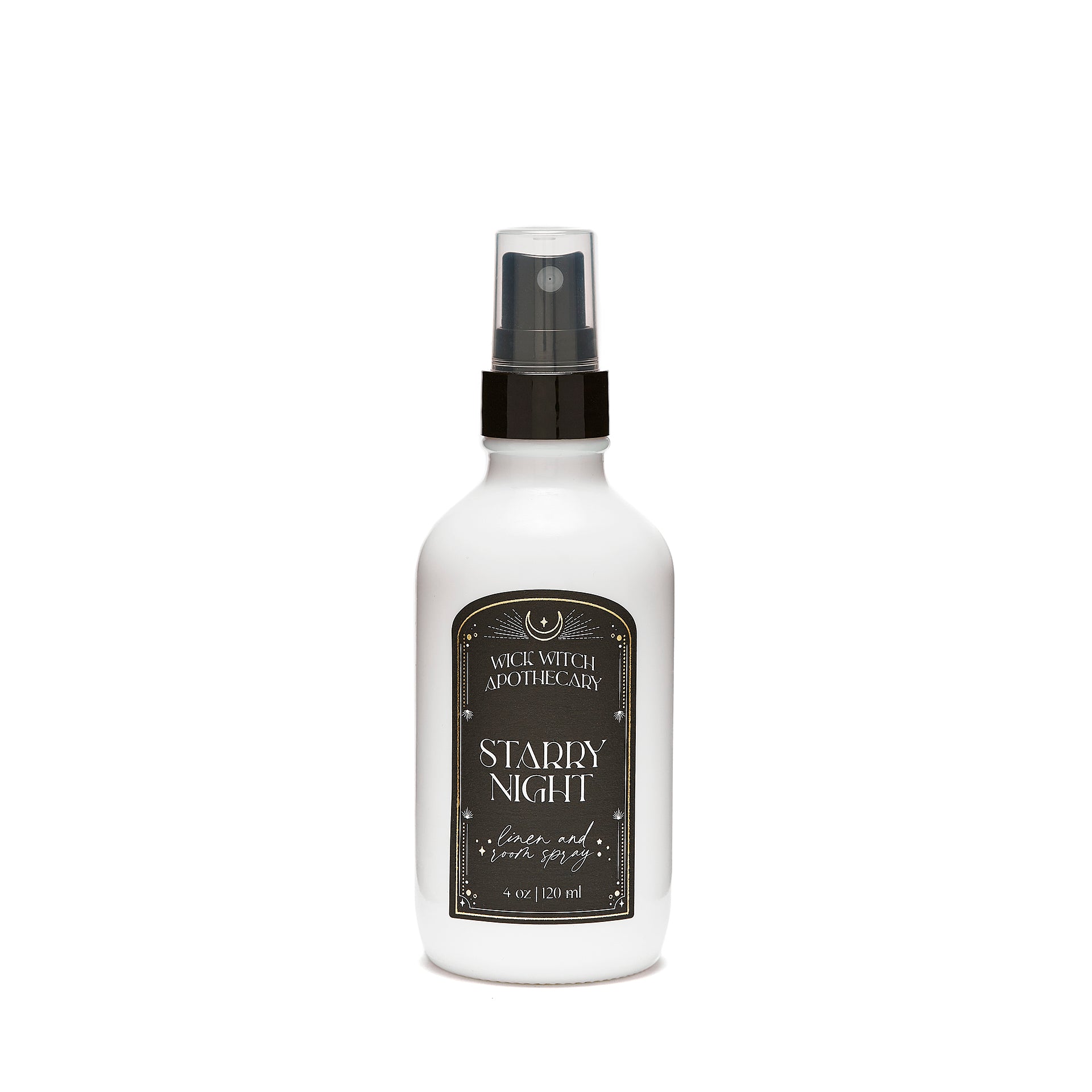 STARRY NIGHT LINEN & ROOM SPRAY
Under the veil of a moonlit sky, behold the mystic alchemy of the Starry Night Linen and Room Spray. Infused with the ancient whispers of vanilla, sandalwood, and ylang-ylang, this enchanting elixir weaves a spell of romance, softness, and mysterious feminine allure.
VANILLA stars caress your senses as twilight shrouds the world in obsidian silk. Like a velvety kiss from the cosmos, it enchants your surroundings with a sensuous sweetness that lingers in the night.

SANDALWOOD, a celestial gift from the heart of the Earth, grounds you in the realm of dreams. Its ethereal tendrils dance in the shadows, bringing an earthy, yet mystical presence to your space.

YLANG-YLANG, the essence of blooming moonflowers, breathes life into this spellbinding potion. Its delicate, floral notes evoke a sense of timeless femininity, inviting you to surrender to the enchantment of the night.
Mist it upon your linens, and let the soft, velvety whispers of this elixir enfold you. Allow the starry night linen and room spray to weave a spell of desire and magic, where romance blooms in the heart of the night, and the very essence of the universe becomes your sanctuary.

VANILLA  .  SANDALWOOD  .  YLANG YLANG
4 oz glass bottle / handcrafted in historic Merrickville, Ontario
SHAKE WELL BEFORE EACH USE
INGREDIENTS: DISTILLED WATER, DISODIUM EDTA, POLYSORBATE-20, HYDANTOIN, PERFUME OIL BLEND.
PHTHALATE & PARABEN FREE