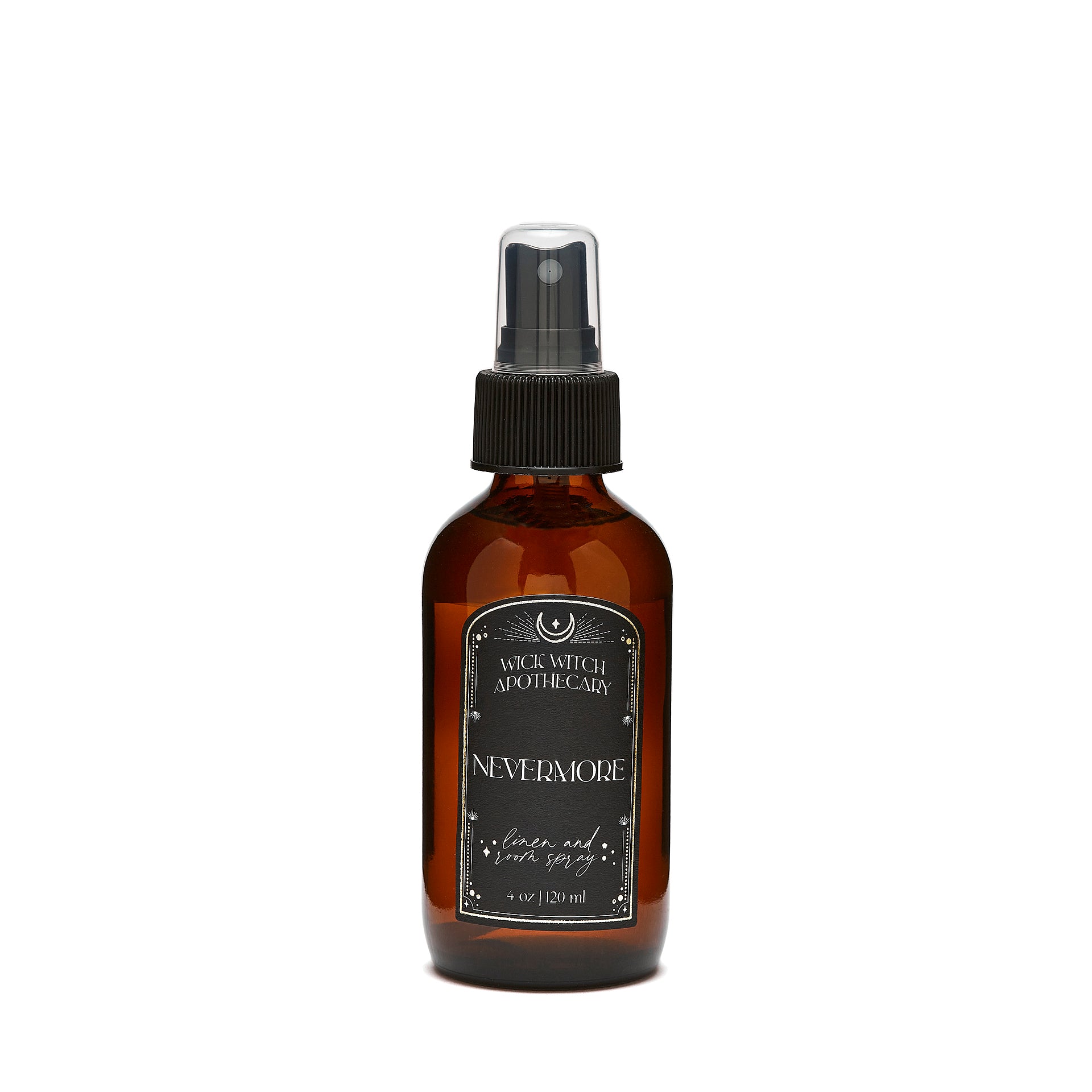 NEVERMORE LINEN & ROOM SPRAY
In the realm of the mystical and the unknown, where shadows dance and secrets whisper, we invite you to experience NEVERMORE, the linen and room spray that holds the essence of ancient enchantments and the whispers of the night. More than a scented spray; it's a mystical experience. As you mist it upon your linens or throughout your room, you invite the unseen to join you in your space. Are you ready to awaken the spirits that linger in the shadows and embrace the enchantment of NEVERMORE? Spray away the mundane and step into the mystical today.
CLOVE . EUCALYPTUS . PINE . ROSEHIP . HAWTHORN
 CLOVE: Clove wraps you in a cloak of protection, a barrier against the mundane. It is the guardian that wards off negative energies and keeps your space sacred.
EUCALYPTUS: Eucalyptus is the key that unlocks your senses, allowing you to connect with the spirit world. Its fresh, invigorating scent clears your mind and opens the door to mystical visions.
PINE: Pine beckons you to the heart of the ancient forest, where ancient spirits reside. Its scent is a bridge between this world and the next, guiding you on a journey of discovery.
ROSEHIP: Rosehip adds a touch of delicate beauty to the blend, reminiscent of the roses left by mysterious admirers. It carries the energy of love, protection, and transformation.
HAWTHORN: Hawthorn, the tree of enchantment, weaves through the scent, connecting you to the magic of the natural world. It is said to be a portal to the fairy realm and a guardian of secrets.
4 oz glass bottle / handcrafted in historic Merrickville, Ontario
SHAKE WELL BEFORE EACH USE
INGREDIENTS: DISTILLED WATER, DISODIUM EDTA, POLYSORBATE-20, HYDANTOIN, PERFUME OIL BLEND.
PHTHALATE & PARABEN FREE