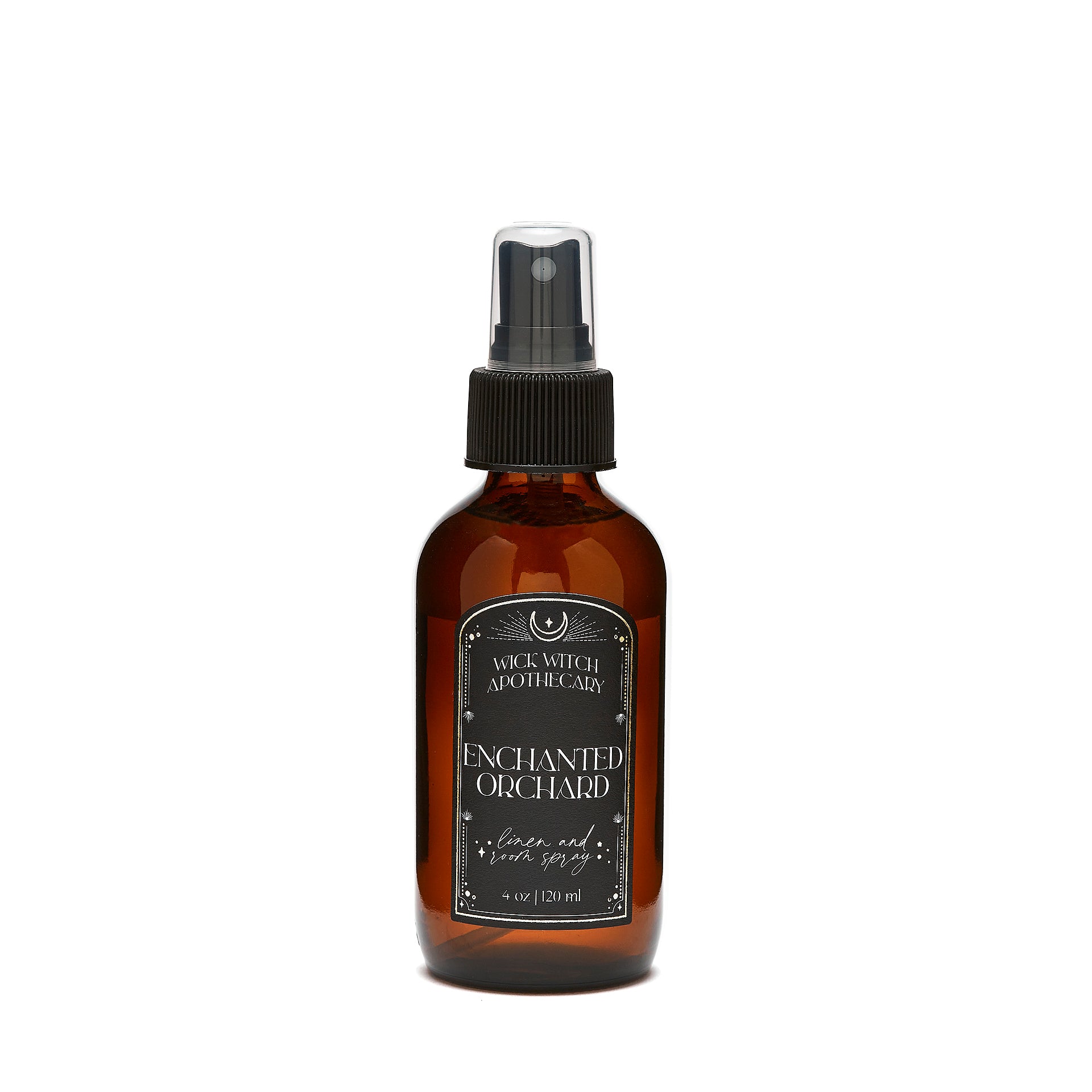 ENCHANTED ORCHARD LINEN & ROOM SPRAY
Unlock the Mysteries of Nature's Magic and step into a realm of enchantment with our captivating ENCHANTED ORCHARD Linen and Room Spray. Immerse yourself in the ethereal fragrance of an orchard hidden in the depths of a mystical forest. This bewitching blend will transform your space into a sanctuary of magic and wonder. Enchanted Orchard Linen and Room Spray is more than a scent; it's an invitation to unlock the mysteries of nature's magic and let it weave its spell around you.
ELDERFLOWER . JASMINE . APPLEWOOD . WORMWOOD . CHOKEBERRY
Elderflower: The delicate sweetness of elderflowers dances in harmony with the apple's freshness, infusing your surroundings with a sense of ethereal beauty.
Jasmine: Jasmine blossoms add a touch of sensuality to the mix, evoking the allure of moonlit garden walks in the enchanting orchard.
Applewood: The warm and earthy notes of applewood create a comforting and grounding base, grounding you in the heart of the orchard's secrets.
Wormwood: A hint of wormwood adds a touch of mystery and intrigue to the fragrance, inviting you to explore the depths of the enchanted orchard's hidden realms.
Chokeberry: Finally, the essence of chokeberries adds a hint of dark, delicious berry that lingers like a whispered secret on the breeze.
 4 oz glass bottle / handcrafted in historic Merrickville, Ontario
SHAKE WELL BEFORE EACH USE
INGREDIENTS: DISTILLED WATER, DISODIUM EDTA, POLYSORBATE-20, HYDANTOIN, PERFUME OIL BLEND.
PHTHALATE & PARABEN FREE